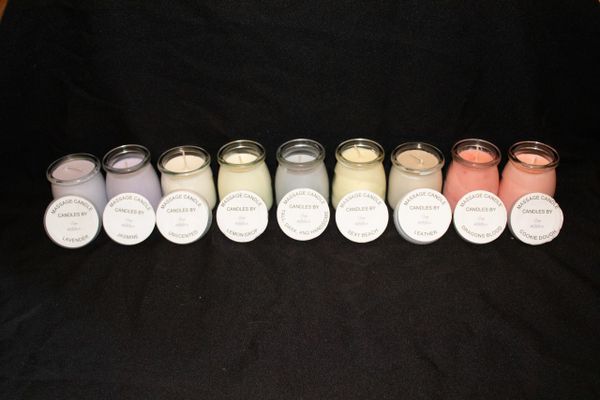 Massage candle
While developing the low temp wax recipe, we stumbled across something wonderful. Massage candles start as a standard scented candle, but melt into an amazing massage oil when lit.  Simply drip the melted wax onto your lucky victim and rub the sumptuous oil into their bare skin.The combination of soy, beeswax and coconut oils remain liquid on the skin until massaged in. There is no residual left except wonderfully soft skin with a hint of scent. The 6 ounce resealable jar is enough for multiple back rubs or use more if your anticipating a more thorough rub down, hint, hint!
 CAMPFIRE SEX/BOOTBLACK- This is one of my favorites. It starts off smelling like a BBQ smoker. When you light it, it smells like you're sitting around a campfire or fireplace. And like all campfires, when you let it dwindle down (blow it out) it's like the dying embers filling the room. The biggest surprise though, is when you start to pour on your partner, there's a hint of Christmas in the air.
LEMON DROP- All the way through, this smells like s lemon pound cake with the white glaze on top.
DRAGON'S BLOOD- Dragon's Blood is a unique smell that's hard to describe other than its dragon's blood. So we're going to go with how smelling it makes me feel. When I smell this candle, it's as if the dragon's blood makes me feel at peace, like I'm walking into a safe space.
LAVENDER- One of the most calming smells in the world, this candle's smell is like walking through a lavender field.
JASMINE- Such a soothing scent. Jasmine always has this combination of floral and clean smell. It makes the room smell like someone has sent you bouquets of flowers.
TALL, DARK, AND HANDSOME- Honestly, this is the only I can't describe. It reminds me of my grandma, and I can't break down the scents.
WITCH'S RUB- Witch's Rub, when unlit, has a vanilla and sandalwood scent. When lit, the palo santo creeps into your nostrils and brings you peace. Palo santo is a great for taking negative energy out of you and your home, but keeping the positive energy in. so as you're getting a rub down, you're also getting a cleansing.
SWEET WATER- Sweet water smells like a clothesline on the shore. Clean linens and sea breeze.
LEATHER- This lives up to its name!! Leather fills the room but not overpowering like when you go into a leather store. The interesting and lovely part is when you rub it on yours or your other's skin, it's smells sweet.
FOREST GUARDIAN- It reminds me of sweet tobacco leaves.
SEXY BEACH- Grab your towel, sunglasses, and hat because Sexy Beach smells like your bestie is mixing up a batch of pina coladas to enjoy while people watching at the beach.
COOKIE DOUGH- When I first took the lid off, I smelled Butterscotch. Once lit though, it smelled as if I had sugar cookies in the oven!
CITRUS DREAMS- It smells like a sweet orange. I think of orange cookies when it gets blown out.
Reviews
Featured Products